A Stich in Time Saves Nine!!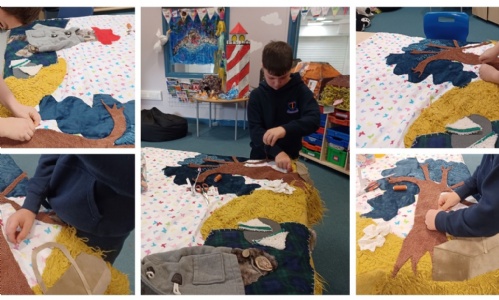 Sensory stimulation is the activation of one or more of the senses including taste, smell, vision, hearing, and touch. Benefits of sensory stimulation include:
Improving cognitive symptoms and maintaining daily function
Encouraging group participation and enhancing social and communication skills
Increased concentration and alertness
Whilst learning the time honoured tradition of stitching and sewing by hand, learners at the Lower site, have been creating a sensory blanket which has helped to develop their attention skills and keep them on task.
The materials have been cut, trimmed and stitched to create a beautiful and bespoke interactive blanket that the learners are able to touch while adding more material to the blanket with different textured materials. Miss Brown has sourced countless different materials, textiles and fabrics to be added to the blanket.
Eventually, the blanket will take pride of place on a wall in our sensory area where our learners go to for some calm time.