Careers Week at the Lower Site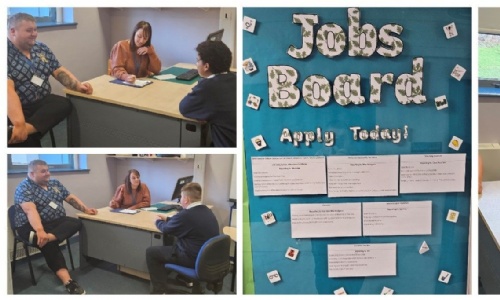 To celebrate National Careers Week, the Lower Site has been empowering Key Stage 3 learners to make exciting choices about their future!
We have been advising and supporting our learners to explore future career possibilities; develop their CVs, interview skills, and personal statements; and experience simulated interviews.
Learners were encouraged to apply for a job within school or their class, including Personal Assistant to the Head Teacher, Attendance Officer, Teaching Assistant, and Librarian.
Miss Grundy then coordinated practical interviews for our successful candidates. This provided a fantastic opportunity for learners to have a realistic job interview where they were empowered to speak more broadly about their strengths and skills.
Every leaner who applied received a 15-minute interview and received feedback on their communication skills and professionalism. At the end of the week, successful applicants began their placements: reporting to a line manager and carrying out their designated duties.
Miss Grundy would like to say thank you to the learners for showing that diamonds are forged under pressure, and a special shout out to Harry Ellis for being our Employee of the Week!