Writing Practise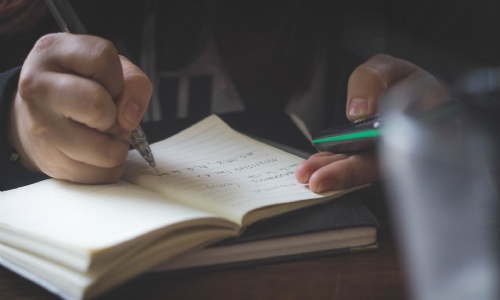 At Trinity Academy, we want all of our children to dream big and succeed in life but to do so takes a combination of things – commitment, resilience, determination, great communication skills, a passion for learning and….drum roll please…great writing skills too!!
Writing is an integral part of any child's education. Throughout their school years, children will need to write for a range of purposes. Children will need to learn how to express their thoughts and feelings clearly via the written word. Before your child puts pen to paper, they will need to think about what they want to say and how they can say it. What are their thoughts? What is their message? How can they get their thoughts onto paper in the best way possible? All of this requires brain work – lots of it! The more our children practise writing, the easier it is for them to plan and structure their writing according to their plan and work out what goes where and when.
Here are some examples of how our children have practised writing this term:
Group Writing - CHILLINGHAM – Remembrance Day
No Boys Land
I'm Twelve years old and off to war,
I've got my bayonet, kings shilling and I'm out the door,
I enlisted with a 100 lads, maybe even more,
I was told this war was great, but that's not what I saw.
The trenches are damp, the conditions horrific,
I share my bed with rats, you're taking the mick,
I'm covered in mud and dripping blood,
It's raining bullets there could be a flood.
The whistle's been blown I'm thrown over the top,
I'll never go home, I wish this would stop,
The mustard gas is on its way,
But I'll get shot by the Marshall if I turn away.
In Flanders Field is where I lay,
105 years since that day,
In this ground I'll forever stay,
I didn't know the price I'd pay.
Extending Vocabulary – Synonym Poems
I'm talking happy!
I'm talking thrilled, I'm talking magnificent!
I'm talking over-joyed.
I'm talking buzzing, I'm talking magic!
I'm talking ecstatic, I'm talking fresh
I'm talking over-the moon!
Max P
I'm talking happy
I'm talking contented, cheerful, glad
I'm talking light-hearted
I'm talking delighted, joyful, elated
I'm talking thrilled, buzzing
I'm talking in good spirits!!
Tom E
Descriptive Writing – London on New Year's Eve
Here I am, in a capsule of the London Eye. Lines of colours are shining off the glass. All around me there are ruby red spiders' legs exploding over the crowd's heads as they go crazy.
Car drivers are going crazy trying to find a parking space. Heads poke out of windows looking up at the rainbow spiders' legs twisting and twirling. Smoke covers the midnight sky. TE
I'm standing in the Big Smoke and it is filled with booming fireworks like diamonds in the sky. I feel crowded like I'm on the tube.
Colourful rainbows are booming in the sky above me the colours reflected in the glass of The Shard.
The London atmosphere is erupting with fireworks. I'm eating twisting, scarlet candyfloss as cars flash past and the crowds go wild. LO
I can hear rocketing, booming, sky-tearing rockets and they look like rainbow sparks in the sky. There are sapphire, ruby red and gold sparks exploding in the sky like a shot down plane. LM
The darkness was paused as rainbow sparks started to dance in the sky. Everybody watched as the dark charcoal sky was corrupted with ruby red, emerald green, sapphire blues and rosy pink with a BANG! BOOM! WHISTLE! The crowd went absolutely wild!
Fireworks and screams went on for hours until the world was dark once again. MP
I'm in the 'big smoke' of the booming fireworks scoffing down my scrumptious hotdog. I can smell the fumes of cars queuing and parking to watch the lovely, swirling fireworks.
Ruby red fireworks shoot, twirling around and bursting into bright colour such as emerald, ginger and sapphire. As they go on, more cars are attracted to the amazing colours which fill the air; children eyeing through the windows, well past their bedtime. The black sky is filled with smoke and fumes. Sparks fly all over, smashing into the colossal London Eye. JQ
I'm inside the London Eye, the bright colours reflect off the glass. Ruby fireworks explode as smoke corrupts the air.
Cars are bumper to bumper as the party atmosphere starts. People are playing music, singing and eating delicious hotdogs.
Multi-coloured fireworks fill the starry night sky as crowds of people cheer on. AS New Year chimes in sparks of rainbow colours fall from the sky. More people join and an enormous crowd forms. Big Ben fills up with colours that cover the ancient tower. BT